Hello and welcome to my 11th and penultimate Vice-President (Sport) officer blog!
78 days. Those are the number of days I have left as Vice-President (Sport) and I'm (already) beginning to write my to be released in the future good-bye articles and posts across media outlets. I have found myself reaching a degree of nostalgia.
Aside from these feelings over the past months I've realised time does go on, indeed life does as well (as I've noted in my now traditional poignant blog titles). Life as being Vice-President (Sport) has continued as if I never left it and I've been working to continue the progress made this year and enact positive change for students whilst I still have the opportunity.
Sports Ball 2013:
As I've made reference to in recent blog posts we've made good progress in terms of Sports Ball organisation. Now myself and a small panel have decided on all awards that will be presented at Sports Ball (and Sports Awards). Now we just have to finish the scripting of the event and arrange one or two other details. My next blog will contain a full review of Sports Ball 2013!
BUCS Points Update:
Good news in terms of the overall 2012-2013 BUCS points table. The University of Birmingham is cementing itself in the top three once again with an almost 300 point lead over fourth place Bath. Can we chase down Durham just over 132 points in front of us? Well, with strong Birmingham BUCS events remaining such as Outdoor Athletics (which I'm competing in the 10,000 metres) we have a slim outside chance:
http://www.bucs.org.uk/bucscore/bucspoints.aspx
NUS National Conference 2013:
I travelled home from NUS National Conference in Sheffield somewhat refreshed that the student movement is more in touch with average students than I thought at a national level. The voting on motions and elections reassured me that we are, in the most past, on track. Well done to all involved! All candidates I back for the 4 Vice-Presidential positions I was entitled to vote for as a higher education delegate won. Dom Anderson (VP Society and Citizenship), Rachel Wenstone (VP Higher Education), Coulm McGuire (VP Welfare) and Rachael Mattey (VP Union Development). Particularly well done to Rachael Mattey who I'm very pleased is part of the leadership of the national student movement next over the 2013/2014 year. She will do a fantastic job and it was fun campaigning for her during the conference!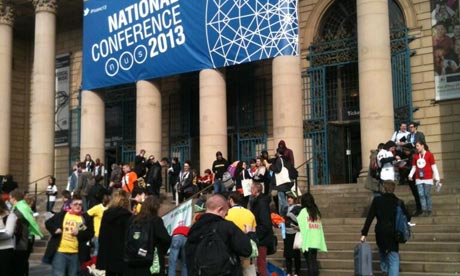 In terms of the presidency of the National Union of Students I backed Vicki Baars who came home second to winner Toni Pearce – the first NUS president to be elected who has not been in higher education (she has come from a further education background). I also meet Peter Smallwood, who was another presidential candidate who turned out to be a top bloke and ended up getting elected onto the Block of 15 on the NUS National Executive Council anyway. I don't care even if he is a Conservative to be honest as it's probably a good thing to have diversity of beliefs on the NUS NEC.
RA Summer Sports Festival:
I have been working with the sports RAs (known as SPRESEXEC) and UBSport's Sport Development department to create, organise and design a Summer Sports Festival to take place in the month of June. The event is targeted but not limited at those living in University accommodation and has attracted sponsorship that will partly fund the event. I will update you on my next blog as to the progress of this exciting date.
Manifesto Points:
1) Healthy eating/active lifestyle + increasing sporting participation:
As a well disciplined team with 4th year student Maisie Meredith we have organised eighteen completely free exercise (Active Lifestyle) classes for University of Birmingham students over the summer 2013 exam period. We were able to fund this by securing the funding for the classes from HAS (Hospitality and Accommodation Services) and money from the officer campaigns pot to pay for a Redbrick advert to go in the next issue of Redbrick. It is very important from my point of view that students get some sort of relief from the pressure that the summer exam season exerts. As an undergraduate I experienced this three times and particularly in my third year I was very grateful to exercise for providing a welcome distraction from the reality of exams.
The latest meeting of the Guild staff Wellbeing Group took place on Thursday 18th April. Just to remind you all I re-set up this group after it had failed to meet since January 2010. The group is responsible for ensuring the Welfare of Guild employees. The main item on the agenda of this meeting was the extremely important issue of the sabbatical officer leaving party and how we are going to spend the generous budget for this event!
My paper to APRC (Academic Policy and Regulation Committee) regarding the University's policy on Wednesday afternoon teaching (or restriction of) has been completed and sent off. I will be presenting the paper and it's reasoning at APRC in mid May. Essentially it is calling for agreement in principle to enforcing the current set of guidelines into concrete policy in preventing any undergraduate teaching taking place on Wednesday afternoons and maximising freedom for postgraduates and those on clinical placements. This is so time is freed to play sport and take part in other recreational activities. I've also noted one or two changes to the current guidelines. I'll let you know the outcome of the committee in my next (and final) blog post.
2) Greater linkages between the Guild of Students and UBSport
As I mentioned in my last blog entry, unfortunately the main event I was linking the Guild and UBSport together with was the International Rules 'big event' fixture that was due to take place on Friday 22nd March. Unfortunately the game was postponed until further notice. The good new now is the match has been rescheduled for Thursday 5th June on the Bournbrook show pitch, near the Grange Road entrance to campus. Up until this event I shall be ensuring the Guild and UBSport are as one promoting this event to students, as it will be a great evening. I for one cannot wait!
3) VPS Dedication:
As I mentioned before I'm on the final straight now of my VPS tenure and it's all about maximising the time I have in the position.
Vice-Presidential Duties:
On the morning of Tuesday 16th April I attended University Fitness To Practice (FTP) as the student representative on the University panel (standing in for President, David Franklin) who were tasked with making a decision on a case that had been appealed from a College Misconduct Committee. It was a day out.
In recent time the Guild has been attempting to resolve a number of misunderstanding with the Medical and Dental School (MDS). Specifically, the Guild has been trying to clear up issues regarding Fitness To Practice procedure and ensure it is fair on the students facing it. I'm of course involved because of the fact that my College this year is MDS in terms of the fact that I have been the sabbatical officer who sits on the College's LTC and CQC committees.
Speaking of LTC (Learning and Teaching Committee) I attended the lastet meeting on Wednesday 1st May in the Medical School.
I also attend the latest Guild IT Project Board Meeting, term two's Staff Forum, a number of Student Group Committees and Finance Committee. The latter was of note because the Guild budget for 2013/2014 was on the agenda.
I'm working on my handover to the incoming Vice-President (Sport) for 2013/2014.
BUCS West Midlands:
The next and fourth and final BUCS West Midlands regional meeting of 2012-2013 take place on Monday 29th April at University College Birmingham. This was my last meeting as West Midlands Vice-Chair before a new chair/vice-chair are elected as BUCS Conference 2013!
I also attending the final BUCS Competition Group meeting of the academic year in London hosted at BUCS's head office on Monday 22nd April. I say final, we have now pencilled in an additional meeting onto the year to take place on Wednesday 26th June also taking place at BUCS head office in London. At the meeting we discussed a number of issues to do with the BUCS competition structures including play-off regulations, the 'glass ceiling' and specific proposed competition amendments to sports including rugby league and golf. I feed all information back in detail at the regional meeting mentioned above.
On a final note, I mentioned on my last blog post I was running the Virgin London Marathon (and BUCS marathon) on Sunday 21st April. Indeed I completed the marathon in a time of 3 hours and 49 minutes. This is certainly a time I want to improve on in my next marathon, but on the plus side I raised £500 for Prostate Cancer UK. If you noticed me hobbling around the Guild and campus, you'll understand why now.
Many thanks,
James Hughes
Vice-President (Sport)